Until 2009, with only a few exceptions, it was not possible to buy a new motorcycle larger than 200cc. Motorcycles are obtained through a multitude of sources which are mostly "gray market" imports.
Now, Yamaha, Kawasaki, BMW and HD are offering a limited range of big bikes here.
Of course there are "millions" of what we refer to as step throughs and small motorcycles that are the daily transportation for the populace of S.E. Asia. Anywhere that we go on our "adventures" the locals traverse on a regular basis on their step through. Sometimes makes us look rather silly.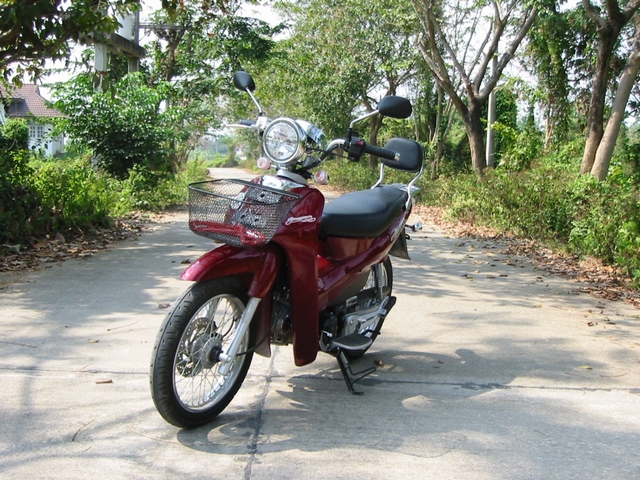 Tiger Joker 120cc
My first motorcycle when I arrived in Thailand. I had no intention of doing any big bike riding until I was corrupted by David Unkovich and friends.
This motorcycle is still the ideal choice for runs to the market, running errands and it even has done some mountain trail riding.
2006 Suzuki DR650cc
Found while exploring the warehouses near the shipping docks in Bangkok. A very lucky find.
The 650 will be able to carry a load and 2 persons and still go most of the places the 250 is able to go. It won't do hard dirt trail riding but for traveling I think it will be ideal. It cruises at high speed on the highway and is equally at home on the dirt roads and mountain trails.
It has already made one trip to Laos and I hate to see it go, but I think this may be the replacement for the TDM.
(Racetrack photos by; John Gunston)
See the modifications made recently to this motorcycle at Chameleon Motorcycle.