A Myranmar road trip.
Mai Sai, Thailand to Kyaing Tong (Kengtung) and Nong La, Myranmar.
What remains of the
"Las Vegas of Burma"?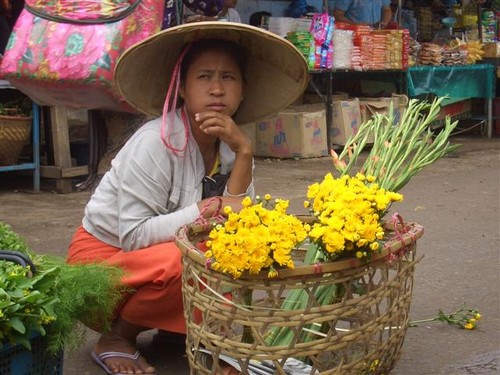 Travel Permits
(55 copies)

U.S. Dollars, Myanmar Kyat and Chinese Yuan.

14 Checkpoints

Burma, or Myanmar as the new government wishes for it to be called, is one of the most oppressed and secretive countries existing today. Many persons and organizations, including the U.S. Government recommend that one not travel within it's borders. I am not here to play politics but to experience these places myself and perhaps share an adventure while doing it.
The "Burma Road".
Well it's not the real Burma Road which became infamous during the Second World War, which ran from the Burmese town of Lashio and across the Chinese border to Kunming, but for me this is the next best thing.
I learned that it was possible to enter Burma from Mai Sai, Thailand and cross into Tachilek. This crossing is made on foot on a regular basis by expatriates and tourists from Thailand needing a quick way to renew their visas. Cheap shopping for souvenirs and many other "products" is made available in Tachilek's open border market. However travel is generally restricted to a one day permit and within the confines of this run down border city.
Through some knowledgable friends I learned a few years ago that it "should" be possible to enter with my truck (motorcycle travel is forbidden) and travel north to the China border. I would still be limited to the one route and forced to comply with the many restrictions. Little did know just how many.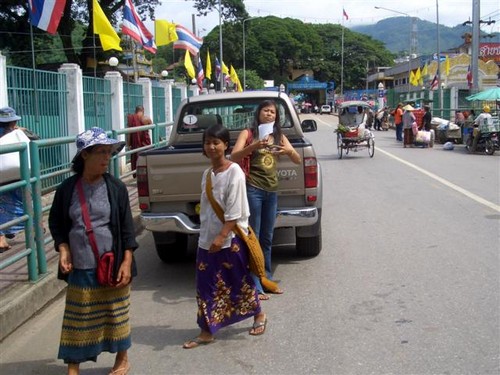 Waiting on the bridge in "No Mans Land" between Thai/Myanmar immigration points.
Travel Documents (don't leave home without them!).
Exiting Thailand was similar to exiting when traveling to Laos except that I had to turn over the original registration book (title) for my truck. It would be given back when I returned. I was then allowed to continue into the "no mans land" area of the bridge and stop just short of the Myanmar border. When I told the immigration and customs people what I wanted to do I was hustled into the Myanmar Travel & Tour office on the bridge and connected to the Government offices. This company is actually operated by the government but one has no alternative.
Two very friendly ladies assisted and processed all the paperwork or led me to the proper office. My passport and my girlfriends Thai ID card were kept by immigration, and customs kept the Thai temporary vehicle export papers that I would need to later retrieve my truck title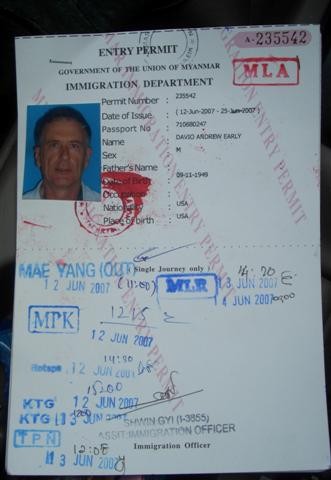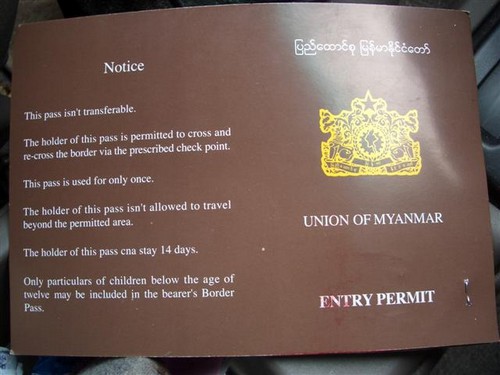 At each checkpoint we received a stamp and the time was indicated. This is less than halfway through the trip.
We were issued travel documents for both Thim and I, and a permit affixed to the windshield of the truck stating our approved destination. I was given TWENTY photocopies of a legal sized paper with our names and my truck description that I was told I would need enroute. We found that at each checkpoint 3-4 copies of our papers had to be handed in and our original copy inspected .
I was supplied with a photocopied hand drawn map that showed my route, with little detail, and one of the ladies tried to draw in the checkpoints for me emphasizing I MUST stop at each checkpoint. Four checkpoints in the 140km to Kyiang Tong, our first destination.
We were permitted 14 days in Burma, but Thailand only allowed my truck to be out of the country 7 days.
Money (a hodgepodge of funds)
U.S dollars are usually the currency of choice in Burma, but I was told to take some Myanmar Kyat to use for the multiple tolls and miscellaneous small expenses I may find on the road. I had been tipped by my friend Armin Schoch, who is the most knowledgable person I know on surviving in Burma, to bring Chinese Yuan as that is all that is accepted in our final destination of Mong La. Good advice.
We were charged fees of 10 USD each person, which is the normal border fee for Burma, 25 USD for the truck and 900 baht ( 26 USD) fees by the travel agency for insurance and processing fees.
On the Road
I have a Lonely Planet Guidebook for Myanmar published in 2002 and it is so wrong! It advised that the road I would travel to Kyaing Tong (Kengtung) was a dirt road and about a 6 hour drive. I knew this was not correct. Others told me the road was newly paved superhighway affair, they were equally as wrong!
The route is only about 140 Km. to the town of Kyaing Tong, and then another 90Km. north to the town of Mong La at the Chinese border. This relatively short trip felt more like an epic journey.
A great optimist or a great salesman was able to prompt the building of 3 toll gates such as these. Interestingly enough, the gate nearest Tachilek was smaller. Equipped with a scale, a digital readout of the vehicle weight and toll is visible to the driver but not turned on.

The automated gate is instead raised and lowered by hand by an outside attendant. A girl inside does write up a receipt however, showing the weight and the toll.

It does appear to be accurate as the listed weight showed the variance in my trucks weight as my fuel level decreased and when I subsequently filled up on the return trip.

The toll was less than $1.00 [paid in Burma Kyat].

What were they thinking? Read the story of Mong La.
We soon reached our first check point. Our permits stamped and we had to supply 4 copies of the other document.
The road conditions deteriorated as we crossed lowlands and improved as we climbed into the mountains.
Great winding roads surrounded by lush green forests and jungle.
---